About the Author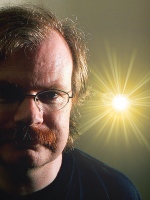 I was born in England in 1970. At the time, my father was a librarian and my mother was a teacher, so it was probably inevitable that I would grow up loving books. For much of my childhood, we lived in New Zealand, returning to England in 1981. I attended the University of York from 1989 to 1992, graduating with a bachelor's degree in computer science. What pays the bills is working as a software developer for a large IT company.
I made my first attempt at writing a story on my own (rather than because my English teacher told me to) when I was about nine. My early efforts were heavily influenced by whatever I'd seen on TV or read that week. They were about as good as you'd expect from someone of that age, and I'm pleased to say none of them survive.
I had several goes at a novel before managing to complete a short one when I was fifteen. It too was mostly unreadable, but it served as the backstory for The Barefoot Healer series.
I wrote sporadically for the next twenty years or so, gradually coming round to the idea that writing fiction was the thing I enjoyed most and the thing I did best. I therefore decided to make a concerted effort to write another complete novel and get it published. So here I am, with (so far) four five six seven quite a few of them plus a novella, a short story collection, and a children's book under my belt.
Among my influences and inspirations as a writer are (in no particular order) J R R Tolkien, C S Lewis, Isaac Asimov, Arthur C Clarke, Ursula K Le Guin, David Eddings, Stephen Donaldson, Douglas Adams, Terry Pratchett, Susan Cooper, David Brin, Kim Stanley Robinson, Alastair Reynolds, Monty Python, Blackadder, The Goon Show, Doctor Who and Blake's Seven.
Apart from writing, my main claim to fame is that I directed a short video that's had over two three million views on YouTube. It's called Age-Activated Attention Deficit Disorder, and is a comedy sketch about one of the hazards of getting older. (If I'd known it was going to become so popular, I'd have picked a shorter title!) I also made a film noir spoof about a writer who's stuck for ideas, called The Last Story. I think it's much funnier, but it's not nearly as popular yet.
If you want to be the first to know when I release a new book or have a big announcement to make, please sign up for my newsletter. I don't have a regular schedule for this - I just post whenever I have something to say. Given my usual rate of writing, I'd expect no more than three or four posts a year. To thank you for joining, you'll get to read a free short story, exclusively for subscribers.
If you want to contact me, you can send email (how quaint!) to webmaster (at) pembers (dot) net or pester me on Facebook.
You can also follow me on Twitter () see what I'm up to on Wattpad, check out my Amazon Author Central page or my author profile on Goodreads. I also have a blog there. Occasionally I write stuff in it.
You can ask me a question on Goodreads, if you don't mind the rest of the world seeing the answer. You'll need to be signed in to Goodreads to do this.
Steven J Pemberton
|
Create your badge
Equipment
This is what I use to bring my books to you...
A home-built PC running Ubuntu Linux.
gedit, a text editor, for writing the books.
Calibre for outputting the ebook editions.
LaTeX for outputting the print editions.
A Behringer B-1 microphone and Behringer Xenyx Q802 mixer for recording the audiobooks.
Ardour for editing the audiobooks.
Various home-written Perl scripts for tying the other programs together.
Last update: 26/8/2022 23:31