Escape Velocity by Steven J Pemberton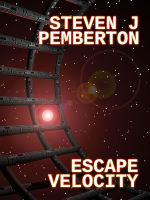 Escape Velocity is a standalone science fiction novel.
Sam Grainger, rocket scientist, gets a phone call from his wife Jennie one evening. Which would be perfectly normal if she hadn't been dead for over a year.
Sam's convinced the call is a hoax, but before he can find out anything more, a much larger mystery presents itself - parts of the world have started to vanish, and Sam is asked to join a team to investigate.
Once he's reunited with Jennie, Sam learns that the world isn't what he thought it was - and neither are he and she. Worse, some very ruthless people are determined to make sure the secret doesn't go any further.
Racing to stay one step ahead of their enemies, Sam and Jennie learn that the key to mending the holes in the world may be the spaceship they worked on before Jennie died. Which wouldn't be so bad if they didn't have to steal it...
Escape Velocity is available from:
- Amazon, for your Kindle and in print (6" x 9" paperback, 286 pages) in USA, UK, Canada, Australia, Germany, France, Italy and Spain. At the moment, the ebook is available only from Amazon. If you have a Kindle Unlimited or Amazon Prime subscription, you can read it for free.
- The 6" x 9" paperback is also available from CreateSpace.
- Lulu (A5 paperback, 339 pages).
The ISBN for the 6"x9" paperback is 978 147 758 890 1. The A5 paperback doesn't have an ISBN.
Free Samples and Giveaways
The above links to retailers will let you read the start of the book for free. You can read the sample of the Kindle edition in your browser. You can also listen to me reading a couple of chapters from the middle - see the links under Bonus Material, below.
For a chance to win an electronic copy of the book, take this quiz on Goodreads. The answers are all in the first chapter.
Reviews
"[F]ull of interesting ideas about reality, physics, and AI, but more important, the characters are engaging and the action keeps up a good pace." - 4 stars - Rachel Cotterill
Bonus Material
Short video trailer for the book (1 minute 21 seconds).
Full trailer (3 minutes 16 seconds). If you have a fast connection, I recommend watching it in high definition and full screen - use this link instead and click the little "four corners" icon on the right-hand end of the play bar. If you're interested in what went on behind the scenes, here's a blog post I wrote about the making of it.
Screenplay for the full trailer.
Degrees of Impossibility - a video of me reading chapter 7, Sam's reunion with Jennie (11 minutes 21 seconds).
Casing the Joint - a video of me reading chapter 29, the start of the "steal the spaceship" section (7 minutes 2 seconds).
Lucas Spangler featured Escape Velocity on his First Chapter podcast. You can find the podcast series on iTunes (I'm in episode 13) or go straight to the episode on Libsyn. After I read the first chapter of the book, Lucas and I talk about the inspiration behind my writing, the relationship between writing and software, and my first terrifying encounter with a home computer. (Parental advisory: there is a bit of swearing in the reading.)
Review Copies
If you're interested in reviewing any of my books, please email me (webmaster (at) pembers (dot) net) with a link to where I can read some of your reviews (so I know you're serious about reviewing). Please state which book(s) you're interested in and which format you want. I can supply .mobi (for the Kindle), .epub (for most other ereaders) and PDF. I don't normally give out print copies, but I occasionally have spares lying around, so if you want one it's probably worth asking just in case.
Last update: 19/9/2018 21:49