Free Sample of Simon and the Birthday Wish by Steven J Pemberton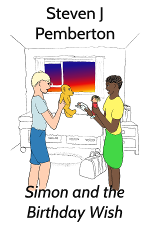 Simon and the Birthday Wish is a children's book about a boy and a teddy bear who isn't as good at magic as he thinks he is.
The links below will let you read the first four chapters for free.
HTML to read in your web browser (or right-click and "Save As" to read later) (36K)
PDF - suitable for printing or reading on a desktop or laptop computer (23 pages, 2.9 megabytes)
Click here to find out where to buy a complete copy.
Last update: 25/7/2020 17:09