Free Sample of Death & Magic by Steven J Pemberton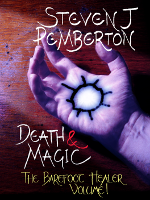 Death & Magic is a young adult fantasy - a murder mystery set in a school for wizards. It's the first volume of a series (The Barefoot Healer) but the story is largely self-contained.
Below you can read the first eight chapters for free in various formats. If you like what you see, this page will tell you where to buy the complete book.
HTML to read in your web browser (or right-click and "Save As" to read later) (124K)
PDF with the page size set to A5 - suitable for reading on a tablet or ebook reader (34 pages, 188K)
Video of me reading the first chapter (10 minutes).
Take this quiz on Goodreads for a chance to win a copy of the ebook. The answers are all in the first chapter.
Last update: 25/7/2020 17:09