The Schemes of Raltarn & Tomaz by Steven J Pemberton
Raltarn is a young man trying to make his way in the world, improve his skill in magic, and win the hand of his beloved Shanu. None of those are easy when their country is at war and Raltarn's guardian, his uncle Tomaz, is never sure which side of the law he wants to be on.
The Schemes of Raltarn & Tomaz is set in the same world as The Dragonrider Series, but takes place about a thousand years earlier. The series currently has only one book, The Mirrors of Elangir, but I'm writing another, which I aim to release in late 2018 early 2019 the 2020s.
The Mirrors of Elangir (The Schemes of Raltarn & Tomaz, Volume I)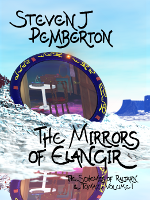 The Mirrors of Elangir is a hunt for a magical treasure that could pay a dowry - or win a war.
Raltarn and his uncle are entrepreneurs, struggling to make an honest living - or failing that, any sort of living - as Raltarn scrapes together a dowry for his fiancée Shanu. Shanu's father, tired of waiting, gives Raltarn an ultimatum - double your fortune in three months or the wedding is off.
While clearing junk from a dead man's house, Raltarn finds a magic mirror that can communicate instantaneously with an identical mirror over great distances. The pair could provide him with a dowry - and might give his country the edge it needs in the long war with its neighbour. When the other mirror proves to be thousands of miles away, across dangerous seas and unexplored lands, Raltarn and his uncle decide the risks are worth it, but they soon discover they are not the only ones who see the opportunity for power and profit...
Click here to read the first ten chapters.
Where to Buy
The Mirrors of Elangir is on sale from:
- Amazon, for your Kindle or in 6" x 9" paperback, in the United States, the United Kingdom, Canada, Australia, Germany, France, Italy and Spain.
- Barnes & Noble (for the nook)
- Scribd (monthly subscription required)
- iTunes for Apple devices.
- Smashwords (formats for most ebook readers)
ISBN 978 131 177 686 0 (ePub edition), 978 150 034 334 7 (paperback).
Free Samples and Giveaways
Click here to read the sample of the Kindle edition in your browser. If you enjoy it, you can buy the book from the same window.
Click here to read the first ten chapters on my site.
Take this quiz on Goodreads for a chance to win an electronic copy of the book. The answers are all in the first chapter.
Bonus Material
Here is the bonus material for The Mirrors of Elangir, including maps and deleted scenes.
Review Copies
If you're interested in reviewing any of my books, please email me (webmaster (at) pembers (dot) net) with a link to where I can read some of your reviews (so I know you're serious about reviewing). Please state which book(s) you're interested in and which format you want. I can supply .mobi (for the Kindle), .epub (for most other ereaders) and PDF. I don't normally give out print copies, but I occasionally have spares lying around, so if you want one it's probably worth asking just in case.
Last update: 8/12/2019 11:33