The Dragonrider Series by Steven J Pemberton
The distinguishing feature of my dragonriders isn't that they ride dragons, but that they can talk to them. This doesn't always end well for the dragon or the rider. The books are set in the same world as The Schemes of Raltarn & Tomaz, but a thousand years later. Currently there are two books, and I'm planning a third.
The Accidental Dragonrider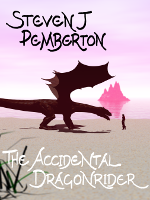 Teacher Iko has a problem with pirates: they keep raiding his village, taking whatever they want. Dusty documents in the archives suggest a last-chance solution: summon a dragon to destroy them. Of course everyone knows dragons don't exist, so Iko is as surprised as anyone else when the summoning works.
The dragon refuses to help - his race were once slaves to humans, and he has no desire to become one himself. But in answering the summons, he created a magical bond between himself and Iko, which will have consequences neither of them can foresee...
Where to Buy
The Accidental Dragonrider is available as an ebook, a 6"x9" paperback (94 pages) and as an audiobook. The audiobook is read by yours truly and runs for about 2 hours and 45 minutes.
You can buy the ebook, paperback and audiobook from Amazon in the United States, the United Kingdom, Canada, Australia, France, Germany, Italy or Spain. Currently the ebook is available only from Amazon. If you have a Kindle Unlimited or Amazon Prime subscription, you can read it for free.
The audiobook is also available from Audible in the USA, Audible in the UK and iTunes.
The paperback is also available from CreateSpace.
Free Samples
Click here to read the start of the Kindle edition - no need to sign in or install any software. If you like it, you can buy the whole book from the same window.
You can also read the first chapter in this post on my blog or watch and listen to me reading the same in this YouTube video.
Or you can listen to the preview of the audiobook (the first 5 minutes of chapter 1).
Bonus Material
Here is the bonus material for The Accidental Dragonrider.
The Reluctant Dragonrider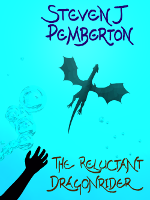 It's been forty years since Tiwan's father Iko convinced a dragon to save their village. Now the dragons are back, and they want Tiwan's help in a war against an enemy in their world's oceans. But she's just a child, so what could she do? The dragons threaten to invade the humans' world if they lose the war. Tiwan reluctantly agrees to go on a spying mission for them, even though she risks being lost in the dragons' world forever.
Where to Buy
Coming soon!
Free Samples
You can read the first chapter in this post on my blog.
Bonus Material
Here is the bonus material for The Reluctant Dragonrider.
Review Copies
If you're interested in reviewing any of my books, please email me (webmaster (at) pembers (dot) net) with a link to where I can read some of your reviews (so I know you're serious about reviewing). Please state which book(s) you're interested in and which format you want. I can supply .mobi (for the Kindle), .epub (for most other ereaders) and PDF. I don't normally give out print copies, but I occasionally have spares lying around, so if you want one it's probably worth asking just in case.
Last update: 30/9/2017 15:24